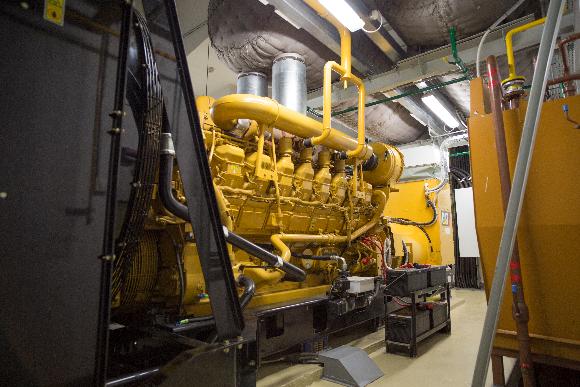 On October 29, 2012, DataSpace Data Center located in Moscow was put into operation.

It's now more than 1,650 days that DataSpace operates without downtime and failure since its launch.
DataSpace, in partnership with Zeppelin Power Systems Russland, a Cat® dealer, has developed an engineering infrastructure that can service any of the 6 Cat 3516B diesel generator sets (DGS), providing 2 MVA of backup power each.

This configuration allows you to shut down any of the generators for scheduled maintenance without reducing the level of redundancy of the data center nominal power with the remaining five DGSs.

DataSpace is the first data center in Russia to obtain Uptime Institute Tier III Gold certificate for design, construction, and operation. Certification confirms the ability to shut down any critical component of the data center for testing, maintenance or repair without downtime affecting the operation of the customer's IT equipment.
When choosing a backup power provider, DataSpace was guided by the availability of world experience in implementing turnkey projects for data centers. DataSpace, in partnership with Zeppelin Power Systems Russland, has designed a reliable backup power supply infrastructure. The project includes preliminary development, procurement, assembly, installation of generators and auxiliary equipment, full onsite testing in Germany before the equipment is mounted at the facility in Moscow, commissioning, training personnel in operational management, remote monitoring, and long-term contract for maintenance service. All equipment has passed full-scale tests. DataSpace - Zeppelin collaboration is organized in such a way that Zeppelin engineers promptly respond to customer needs using spare parts available in DataSpace warehouse.

Click here to watch a video presentation of the joint project of DataSpace, Zeppelin and Caterpillar, which is accompanied by customer comments and expert assessment of the company specialists.
About DataSpace
DataSpace, one of the top commercial data center operators in Russia, offers a guaranteed level of services while providing a reliable and secure environment for the critical IT infrastructure for Russian and international companies. DataSpace focuses on comprehensive data center management and operation while offering premium carrier-neutral colocation sevices to secure continuity of IT and business processes.
About Zeppelin Power Systems
For over 60 years, Zeppelin Power Systems has been proud to be the official partner of Caterpillar Motoren (Cat® and MaK®) and is the leading supplier of drive and power plants in Russia, Germany, many countries in Europe, and also in the CIS countries. Zeppelin Power Systems with its staff of almost 750 people is part of the tradition-rich concern Zeppelin (employing more than 7,600 people) and a total turnover of 2.36 billion euros in 2016. Zeppelin Russland LLC is the official dealer of Caterpillar in Russia: in the Central, North-Western, part of the Volga and Southern federal districts.
Press center