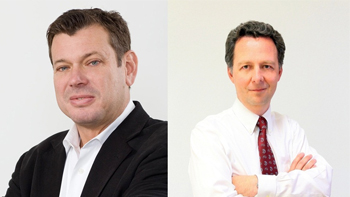 DataSpace, Russia's leading developer and operator of colocation data centers certified to the Tier III standard by the Uptime Institute, announced additions to its senior management team today.
DataSpace Co-Founder and CEO David Hamner will move from his role as CEO of the Company to the position of Co-Chairman of the Company's Board of Directors, effective immediately. In addition, he will continue to direct key initiatives in support of DataSpace's core enterprise customers. Hamner has been with DataSpace since its founding in 2009 and has overseen the development of the Company's main colocation facility in Moscow.
Sergey Rasskazov has been appointed President and General Director of DataSpace, and assumes operational responsibility of the Company, effective immediately. Rasskazov has served in numerous senior IT management roles in Russia, including Managing Director of Russia/CIS at UNIFY (formerly Siemens Enterprise Communications) and Director of HP Technology Services at Hewlett-Packard Russia.
David Hamner said: "It has been a fascinating journey, marking so many firsts. DataSpace data center was first in Russia to receive Uptime Institute's prestigious Tier III Design and Facility Certifications, and first quality data center product to serve the maturing corporate market with best practices in data processing, security and business continuity in Russia. DataSpace set the standard high, and others have begun to follow, resulting in Russia being on par or ahead of many European markets in terms of certified colocation data centers".
Sergey Rasskazov said, "I am honored to lead such a great Company as DataSpace. Under the leadership of David DataSpace gained its reputation on the market for professionalism, reliability, its strong team and the highest level of services which is recognized by leading international institutions as well as customers in Russia. My mission now is to build on its strengths and lead the Company into the next phase of development as the preeminent facility and technology solutions provider. DataSpace is positioned for growth. With additional sites ready for development we want to lead the data center industry in Russia with complex projects at global standards of quality and provide the highest level of services to our customers."
David Hamner will continue to have a keen interest in the success of the company, and will be an active board director looking at opportunities for strategic growth, maintaining close relations with our valued customers. Hamner commented about Rasskazov's new role, "While it has been my privilege to lead such an outstanding group of colleagues and bring the Company to this point, DataSpace now moves into a new phase of development, and a new set of skills is best suited for ongoing operations and developmental growth. We wanted to attract a strong leader with deep information technology knowledge to take the Company forward into an integrated facility and IT services offering, and that's exactly what Sergey Rasskazov brings. I look forward to being part of the ongoing success under his leadership".
Press center