Press center
06.03.2017
DataSpace – SME Company of the Year
06.03.2017
DataSpace – SME Company of the Year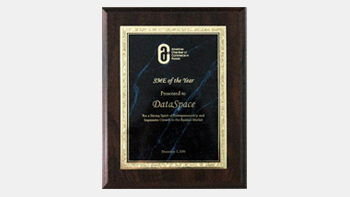 March 6, 2017 –DataSpace, a leading provider of premium data center services in Russia, was named the SME Company of the Year 2016 by the American Chamber of Commerce in Russia at the annual AmCham Awards ceremony. The award ceremony was held took place in December 2016 at the four Seasons hotel in Moscow. The event was attended by more than 200 representatives of the business and diplomatic community.
"SME Company of the Year award is given out annually to small and medium enterprises that have achieved considerable success in the Russian market. The company must show sustainable growth and serious commitment to Russian markets, as well as champion the principles of free enterprise and innovation", says Alexis Rodzianko, President & CEO of AmCham Russia. "Since its founding, DataSpace has consistently introduced and upheld the highest standards of quality within the data center industry, which is one of the most important criteria for us".
DataSpace became the first company to implement international data center operations standards on the Russian market. In 2014, DataSpace facility was the first data center in the continental Europe, to complete the Tier III Operational Sustainability - Gold certification program by the Uptime Institute.
In 2016 DataSpace data center has become Moscow Exchange primary data center facility and services provider, contributing to stability and reliable operations of Russian financial markets. Moscow Exchange is Russia's leading exchange platform for equities, bonds, derivatives, currencies, money market instruments and commodities. DataSpace data center hosts trading, clearing and depository technology as well as Moscow Exchange's colocation clients.
"We are honored to be praised for the work we do and the results that we achieve,not only by our partners and clients, but by prestigious international organizations as well. 2016 was a landmark year for DataSpace, marked by a number of highly important results and events for our company. We continued to actively develop our customer base, attracting quite a few new clients, especially companies from the financial sector that are known to being highly sensitive and demanding towards IT systems. These companies understand that quality, security, and reliability of their IT infrastructure is not something to be taken lightly, as they ensure business continuity and survival", says Sergey Rasskazov, General Director, DataSpace.
DataSpace focuses on maintaining and ensuring operational sustainability and physical security of facilities. DataSpace data center facility is equipped by a multi-layered access control system to prevent any unauthorized access to the equipment of its clients. Since the facility was commissioned 4 years ago, there have been no incidents
of customer equipment downtime due to any site-related issues. In addition to the Moscow Exchange, DataSpace has won the business from companies like Tinkoff Bank, Avito, Orient Express Bank, TSA and others.
About the American Chamber of Commerce in Russia
AmCham Awards is an annual awards ceremony by the American Chamber of Commerce in Russia –a leading international business association in Russia that represents the interests of over 500 businesses, including major US corporations that are active on the Russian market, as well as a wide range of Russian, European and Asian companies. Each year, the AmCham Awards Selection Committee, selected from the AmCham Board of Directors, evaluates the annual performance of nominees and awards the best.
About DataSpace
DataSpace, one of the top-level commercial data center operators in Russia, offers guaranteed level of services while providing a reliable and secure environment for the critical IT infrastructure for Russian and international companies. DataSpace focuses on comprehensive data center management and operation, premium colocation services as well as carrier-neutral approach to telecom providers, in order to maximize the uptime of IT and business processes.
DataSpace contacts:
Anna Dubinina, Marketing Manager
T: +7 495 663 65 64
Press center