Press center
02.12.2015
DataSpace VP presented at the IT Budget in Banking 2016 Conference
02.12.2015
DataSpace VP presented at the IT Budget in Banking 2016 Conference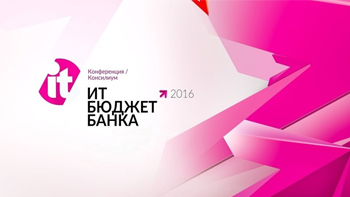 Held on December 2, 2015 in Moscow the conference was devoted to IT budgeting principles for periods of financial market crisis and economic uncertainty. The conference was organized by the bankir.ru news agency and was attended by heads of IT divisions at leading Russian and international banks.
During his presentation Oleg Pismensky, Vice President, DataSpace, drew audience attention to proper alignment between data center infrastructure maintenance expenses and its functionality by offering a set of benchmarks and criteria for multidimensional analysis of data center infrastructure outsourcing. The presentation covered four primary areas: Compliance with regulatory requirements of the Bank of Russia, risk management and mitigation, cost reduction, streamlining of strategic business initiatives. During his presentation Oleg has covered technology, HR, resources and other issues related to ensuring infrastructure services resiliency and continuity as well as required financial and legal support, providing an an example of an algorithm that can be used to set up an efficient system comprised of high-level in-house IT assets of a bank and SLA-based "user-friendly" resource of reliable, flexible and high-performance data center infrastructure that enables rapid deployment and operation of critical IT assets in outsourcing mode.
In conclusion, Oleg has noted that while this methodical approach requires careful study of necessary and sufficient parameters for each specific project, international infrastructure studies indicate cost savings of up to 20-50% over 10 years with necessary reliability and performance secured under a proper service level agreement.
---
About DataSpace:
DataSpace, a Russian company, is a major commercial data center operator in the Moscow market. DataSpace1 data center was put into operation in 2012 as the first facility in Russia, and the fifth in the entire world, to have successfully passed all three levels of Uptime Institute international certification: Tier III Design, Tier III Facility and Tier III Operational Sustainability-Gold. DataSpace focuses on comprehensive data center management and offers unrestricted access to IT and Telecom service providers, thanks to its flexible, neutral approach and extensive partnership programs with all the major telecom and service providers. DataSpace customers include major Russian and international financial and telecommunication companies. Find out more about DataSpace at www.dataspace.ru/en
Press center