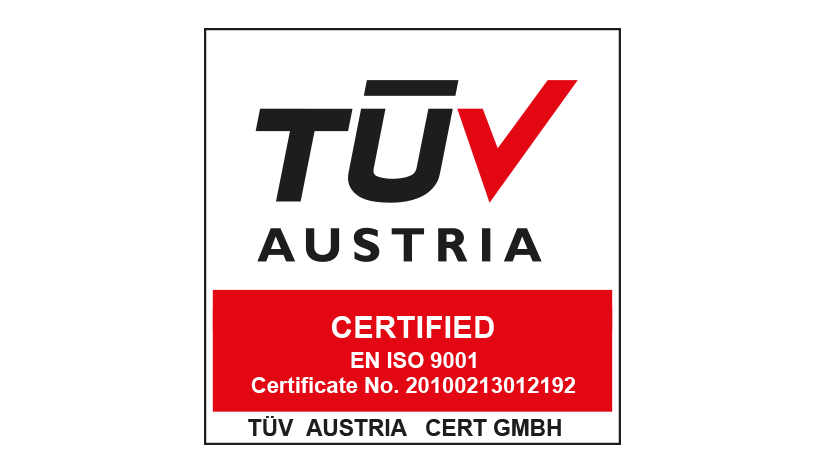 DataSpace Partners completed successfully the ISO 9001:2015 certification of its management systems.
SO 9001:2015 describes a process-oriented approach to documentation and analysis of the structure, responsibilities and procedures required for efficient quality management in an organisation. Compliance with the standard is based on quality management principles such as customer focus, leadership's motivation and involvement, a process approach and continuous improvement. The availability of the certificate indicates the proper quality of the company's services.
DataSpace was certified by TÜV AUSTRIA, an independent company with 150 years of experience in risk assessment, technical supervision, inspections, and certification and training; which operates under the supervision of the Austrian national accreditation service (Akkreditierung Austria), and has one of the most recognizable brands in the world, the certificates of which are recognized at the highest level on all the continents as they have the highest level of anti-counterfeit protection, including digital marking for verification of validity.
«DataSpace's customer engagement and service delivery strategy matches perfectly the ISO 9001 concept. We are constantly monitoring what is important to our customers through communication and satisfaction surveys. The successful certification confirms that DataSpace provides consistently highest-quality services through effectual process and risk management in its activities» — Sergey Rasskazov, General Director and President of DataSpace, says.
«TUV AUSTRIA is famous worldwide as a leading body for testing and certification of the quality systems, reliability and security of IT services and infrastructure, including data centers. An ISO 9001:2015 certificate the company has indicates that all the internal processes are set to ensure that customers consistently receive services consistent with their contractual obligations and regulatory documents of the regulators» — Dmitry Yartsev, Regional Director of TUV AUSTRIA, delegate to the committee of the international ISO/TC 176 standardisation organisation, which is responsible for issuing the ISO 9000 family of standards on quality management, says.
Press center