Press center
09.09.2014
DataSpace Presented at "Data Center 2014" IKS-Media Conference
09.09.2014
DataSpace Presented at "Data Center 2014" IKS-Media Conference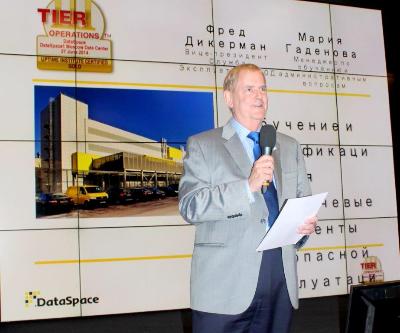 DataSpace speakers presented on "
Training and Certification As A Key Element of Safe Operation of a Data Center
" at IKS DC-2014 Conference brining to light the direct correlation between qualified personnel and efficient data center operation.
The presentation included practical recommendations for the development and budgeting of training program, responsibilities of a dedicated training manager, including scheduling special training programs for each individual DC operations trade. A special part of the presentation was devoted to advantages and disadvantages of on-site and off-site training courses for improving knowledge and skills required to operate the equipment in compliance with the requirements of Tier III Operational Sustainability-Gold certification by the Uptime Institute.
"When you have a training program for your data center personnel, the data center operations engineers will be able to regularly learn and practice new skills, enabling them to perform level one maintenance on a daily, weekly and monthly basis as well as dedicated and factory-trained service engineers do it. As an additional advantage, they get the skills necessary to develop the maintenance schedule, monitor its timely execution and amend it, if a certain piece of equipment requires more attention. This is the key to ensuring the reliable operation of the data center", says Maria Gadenova, Training and Administration Manager, Data Space Operations.
The speakers have stressed the point that regular staff training leads to significant reduction in human errors during equipment operation and maintenance, which is of critical importance -- statisticlly,up to 70% of data center failures are caused by "human factor".
"Unfortunately, right now there is not a single school in Russia that trains engineers with solid knowledge of data center infrastructure or hands-on experience with integrated operations procedures for highly complex engineering facilities, such as data centers. In a certain sense, DataSpace became precisely this type of school for its team of engineers, who were most actively involved in the process on the very early stages - from the minstallation to daily maintenance and operation. Investing in training of our personnel has enabled us to get lower prices on our service contracts and to offer more favorable terms to our clients" — commented Fred Dickerman, Vice President, Data Center Operations at DataSpace.
This year the Annual International Conference "Data Center-2014" was held for the ninth time. The conference is dedicated to data center design, construction, operation and service and served as an opportunity to share the experience and insights gained by DataSpace team throughout all stages of its first Russian data center project - DataSpace1, including data center commissioning, development of internal procedures and, most importantly, data center operations.
About the company
DataSpace (http://www.dataspace.ru) is one of the largest commercial data center operators in Moscow. DataSpace1 is the first out of six data centers planned to be built in Moscow featuring 9,5 MW of power, 3000 m2 of raised floor area and more than 1000 racks spread out in 12 individual data halls. DataSpace1 has recently become the first and only facility in Russia, and the fifth in the world, to have successfully passed all three levels of Tier III international certification by the Uptime Institute: Tier III Design, Tier III Facility and Tier III Operational Sustainability GOLD. DataSpace focuses on comprehensive data center management and operations and offers a vast choice of IT and Telecom service providers, thanks to its flexible, neutral approach and extensive partnership programs with all the major providers.
Press center