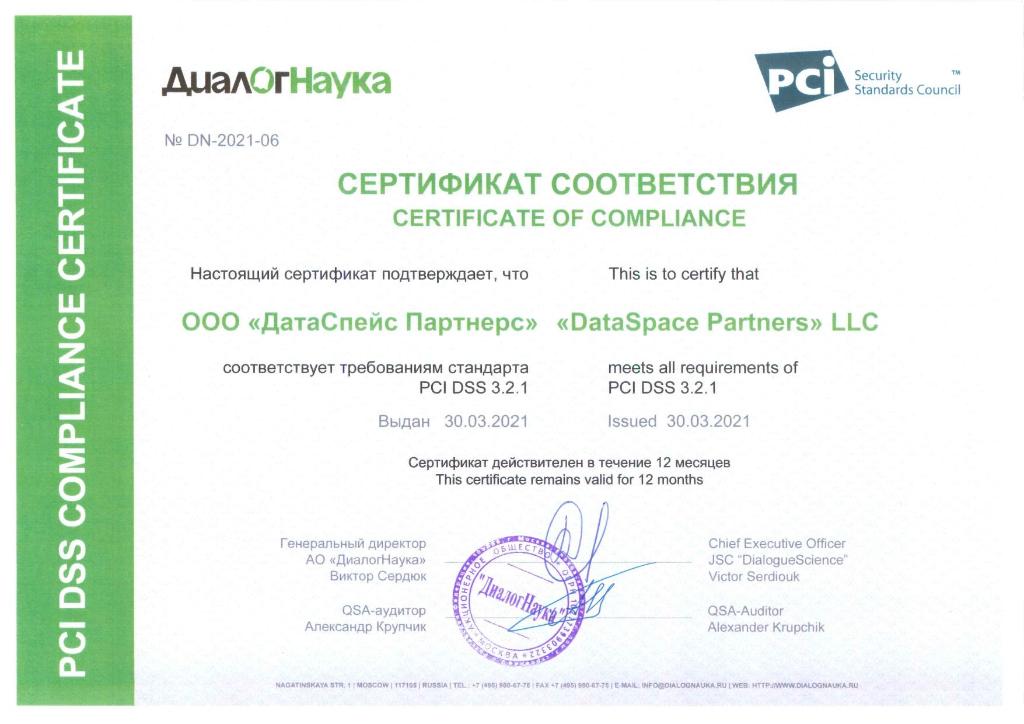 DialogNauka, an information security system integrator, carried out an annual audit of DataSpace for compliance with PCI DSS 3.2.1. DataSpace data center has successfully completed the annual certification to PCI DSS 3.2.1 for the seventh time, thus confirming the security level for payment systems as required by the standard.
DataSpace is a leading operator of commercial data centers in Russia that provides an assured level of services and the highest reliability and security for the deployment of critically important IT infrastructure of Russian and international companies. In its business, DataSpace is committed to leading international standards, in particular, in the choice of partners and consulting companies.
The successful long-term experience of DialogNauka in consulting and PCI DSS certification was the main criterion for choosing it for audit. The audit has confirmed that DataSpace has all the necessary measures, tools and processes that meet properly the requirements of PCI DSS 3.2.1.
«DataSpace has been successfully audited for the seventh time, and during this time we have seen improvements and updating procedures to reflect the dynamic environment, in particular, given the switch to a remote mode of operation as required in 2020. The verification of compliance with the international requirements of PCI DSS has shown that DataSpace fully complies with the strict requirements for data security of payment systems, and, accordingly, received the PCI DSS 3.2.1 compliance certificate. We thank DataSpace for choosing DialogNauka as the executor of the project, we are looking forward to continuing mutual cooperation in the future.» — noted Aleksandr Krupchik, Business Development Director and Head of PCI DSS at DialogNauka.
Press center