Press center
05.09.2018
DataSpace and iKS-Consulting issue an analytical report 'Practical Recommendations for Choosing a Commercial Data Centre'
05.09.2018
DataSpace and iKS-Consulting issue an analytical report 'Practical Recommendations for Choosing a Commercial Data Centre'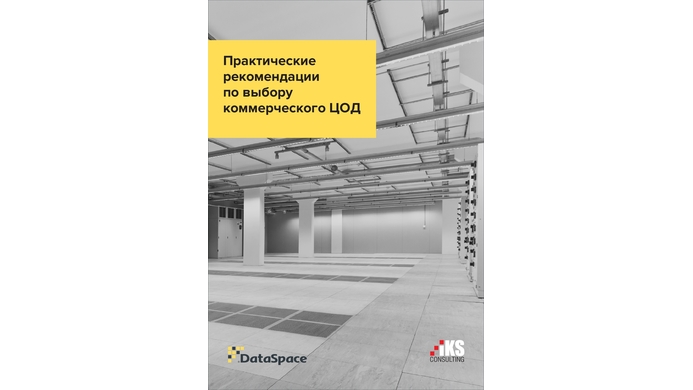 DataSpace and iKS-Consulting issue an analytical report 'Practical Recommendations for Choosing a Commercial Data Centre'
5 September 2018, Moscow - DataSpace and iKS-Consulting have issued an analytical report on choosing a commercial data centre (CDC). The report presents an approach based on industry experts' many years of experience and an analysis of customer requirements for commercial data centres.
Data from iKS-Consulting testifies to the sustainable development of the Russian CDC market. During the period 2016-2018, the average annual increase in the number of racks will be 21%, and in 2018, according to preliminary estimates, this number will increase to 44,500. Experts highlight a rise in the level of customer confidence in CDCs and a drop in the construction of companies' own sites as some of the factors stimulating market development.
As shown by an iKS-Consulting study, when choosing a commercial data centre to host essential IT infrastructure, customers make a thorough and multifactor analysis of key parameters and carry out comprehensive risk assessment. After summarising and systematising the data that have been obtained, iKS-Consulting and DataSpace have issued a joint analytical report that examines the main areas of concern, including legal and financial concerns, transport accessibility, safety, fault tolerance, production and operational aspects. The report examines the main stages in the procedure for choosing a CDC and makes recommendations.
«In this project we have tried to provide potential customers of commercial data centres with recommendations for selecting a site, with a comprehensive assessment of the main risks. It covers the main areas of concern that should be considered when making this choice, and explains the process for carrying out the appropriate procedures»,
— comments Dmitry Bederdinov, General Director of IKS-Holding.
«DataSpace team has extensive experience in risk assessment and management as regards the engineering infrastructure of a data centre. Clients who have chosen the highly reliable DataSpace platform for their site include leading Russian and international companies, financial organisations and telecommunications providers, and companies and enterprises from various industries for whom the reliable operation of their infrastructure is a critical factor. These companies have the highest level of management culture, and we can confidently say that this is what unites us, and why they have made their choice in favour of DataSpace»,
— says Sergey Rasskazov, President and General Director of DataSpace.
Click here to see the full version of the analytical report: www.dataspace.ru/report/
iKS-Consulting is an international consulting agency that provides management consulting, research and analysis of the Information and Communication Technologies market. Founded in 2004 on the basis of the IKS-MEDIA publishing house it has, since 1992, published IKS Magazine, the leading business B2B publication in the field of IT, Telecoms and Media.
DataSpace (www.dataspace.ru/) is the leading operator of commercial data centres in Russia, providing a guaranteed standard of service and the highest level of reliability and security for the deployment of critically important IT infrastructure for Russian and international companies. DataSpace's priorities are the integrated management and operation of data centres, the provision of premium class colocation services and the provision of a free choice of telecoms and IT service providers to ensure the maximum continuity of IT and business processes.
Press center