Press center
25.05.2017
Technical director of DataSpace was awarded an Accredited Operations Specialist endorsement
25.05.2017
Technical director of DataSpace was awarded an Accredited Operations Specialist endorsement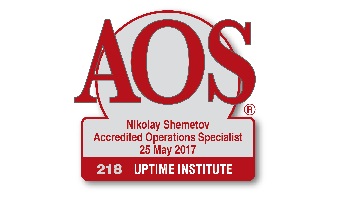 May 25, 2017 Nikolay Shemetov, Technical director of DataSpace successfully passed the examination and was awarded an Accredited Operations Specialist endorsement. The Accredited Operations Specialist (AOS) course provides instruction to achieve a complete understanding of the concepts and criteria to develop a comprehensive world class Management and Operations program for a critical facility.
Accredited Operations Specialist Awardees will be better equipped to:
• Align critical facility operations to consistently evolving requirements to support business priorities in a highly sustainable manner
• Gain the knowledge to apply the Tier Standard Operational Sustainability to continuously improve critical facility operations
• Increase ability to provide a consistent and proven set of standards, processes and measurements across an entire data center portfolio
• Establish the capability to protect investment in critical facility equipment and systems that increases the return on investment
DataSpace invests heavily in recruiting, training and professional development of its operations personnel. The Operations department of DataSpace data center includes 20 people, each with over 15 valid certificates, required under their job descriptions, including Accredited Tier Designer and Accredited Tier Specialist certificates by the Uptime Institute.
Press center